Gezichten achter de Varsity
Dat bij de organisatie van de Varsity meer komt kijken dan direct zichtbaar is, bewijst deze reeks verhalen. In 2015 schreef Annemarie Buth over de mensen die achter de schermen meewerkten aan de 132e Varsity.
Ron Kort, Advisering Veiligheid
"Saamhorigheid en vriendschappelijkheid lopen als een rode draad door de Varsity en dat valt mij ieder jaar weer op. Al meer dan 10 jaar ben ik betrokken bij de Varsity; ik functioneer vooral als schakelpunt tussen hulpdiensten en de organisatie. In al die tijd die ik nu betrokken ben bij dit evenement is mij een aantal dingen opgevallen. Er hangt bijvoorbeeld altijd een heel gemoedelijke sfeer. Natuurlijk zijn er soms wel wat wrijvingen tussen enkele studentenverenigingen, maar op de dag zelf gaat dat op de een of andere wonderlijke manier altijd goed. Ik denk dat de studenten dat zelf misschien ook wel in zien, dat het gewoon een evenement is waar ruzie niet op zijn plaats is. Het valt heel sterk op dat het echt een bindend evenement is voor de verenigingen onderling, daarin verschilt het zeker van andere evenementen. Ik vind het heel bijzonder hoe vredelievend het er aan toe gaat, ik zou bijna durven zeggen dat de Varsity een voorbeeld is van hoe je met elkaar om moet gaan. Ik hoop dat ik de komende 10 jaar ook nog deel van de Varsity uit mag maken. Het is namelijk elke keer weer een feest als de Varsity er is, ook de aanloop er naar toe is erg leuk om mee te maken."
---
Willem Westermann, beheerder Varsity archief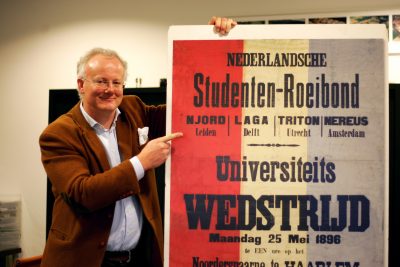 "Al een geruime dertig jaar ben ik betrokken bij de Varsity. Ik ben als hulpje begonnen in 1983, de honderdste editie, waarna ik de jaren daarna de wedstrijd heb mogen beleven als roeier, bestuurder en als organisator in de Varsity Commissie. Sinds mijn eerste editie ben ik altijd betrokken gebleven als helpende hand, zo zorgde ik ervoor dat alle gaten die vielen werden opgelost met passende oplossingen en daar was zo nu en dan het nodige denk- en puzzelwerk mee gemoeid!
Intussen doe ik echter veel minder dan voorgaande jaren. Ik lever nog steeds aardig wat materialen aan de commissie en help daarbij mee met wat denkwerk. Nog steeds sta ik klaar met boten van de vereniging tot behoud van het mooiste wat er is, het oud-roeiend hout, oftewel: de Overnaedsche Vier. Deze boten lenen wij uit aan roeiverenigingen die ze  niet meer hebben, zodat ook aan de knorren een beetje wordt gedacht.
De Varsity is voor mij speciaal omdat het het verloop van de rest van mijn carrière heeft bepaald: dankzij de Varsity ben ik namelijk de evenementenwereld ingerold, waar ik nu ook mijn vak in mag beoefenen. Maar het meest bijzondere aan de Varsity is voor mij toch wel de noodzaak tot samenwerken. Door de jaren heen heb ik geleerd dat elke vorm van hulp welkom is; de Varsity is namelijk écht iets wat je samen met elkaar mogelijk maakt. Het op sommige momenten moeten improviseren om de voor de toeschouwer niet-waarneembare problemen op te lossen maakt de Varsity een zeer interessante uitdaging, een uitdaging waar ik ook in de toekomst graag aan wil bijdragen."
---
Ludo Boonakker, Rijkswaterstaat
"Het afsluiten van het Amsterdam-Rijnkanaal voor de Varsity is als het afsluiten van de A2 voor een wielerwedstrijd: echt een gigantische onderneming. Sinds zes jaar ben ik namens Rijkswaterstaat betrokken bij het organiseren van de Varsity. Een zeer gevarieerde taak, want ik ben niet alleen betrokken bij de communicatie tussen Rijkswaterstaat en de Varsitycommissie, ik ben ook verantwoordelijk voor de controle en handhaving van de verleende vergunningen. Daarnaast ben ik verantwoordelijk voor een goede doorstroom van het kanaal; met een bijzonder evenement als de Varsity sluit je eigenlijk de belangrijkste verbindingsroute voor binnenvaartschepen tussen Amsterdam en Rotterdam af. Wat de Varsity voor mij zo bijzonder maakt is het buitengewone karakter van deze wedstrijd. Roeiwedstrijden zijn er wel vaker, maar op het Amsterdam-Rijnkanaal roeien is toch wel heel anders. De hele beleving op het kanaal is absoluut uniek. Aanwezigheid van televisie en verslaggeving zijn indicatoren van een groeiende professionalisering van het evenement. Het wordt steeds groter en bekender; ook binnen Rijkswaterstaat wordt het begrip Varsity steeds meer een fenomeen. De organisatie van de Varsity is prachtig en voor ons een waardevolle belevenis waar we graag ons steentje aan bijdragen. Wij streven naar een fijne samenwerking en het geeft ons een kick wanneer alles vlekkeloos verloopt. En dat is precies wat Rijkswaterstaat wil bereiken: een betrouwbare partner zijn voor de organisatie van de Varsity."
---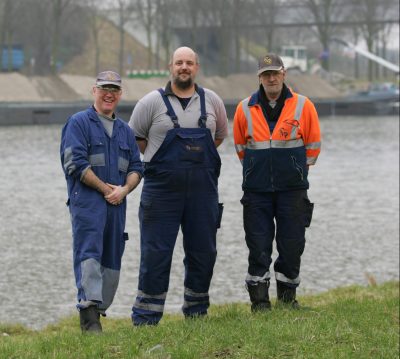 Vetverwerkers
"Hoe moeten deze stuntelige studenten ooit het land gaan regeren of een belangrijke job naar behoren vervullen als ze iets simpels als een slijptol niet eens kunnen hanteren? Dit zijn vragen die wij ons elk jaar weer stellen als we de Varsity zien langskomen. Maar wat een feest en genot om mee te maken; iedere keer weer. Wij zijn Jack en Stefan van het vetverwerkingsbedrijf aan het Amsterdam-Rijnkanaal te Houten en al sinds Varsity 121 betrokken met de organisatie van dit evenement.
Het begon indertijd met het aanbieden van het gebruik van onze WC, een bakkie pleur of een douche; maar al snel mondden wij uit tot een waar toevluchtsoord voor alles wat de Varsity organiseert. We zijn er nu voornamelijk voor de nodige hoeveelheid mentale ondersteuning; in opbouwweek komt iedereen vol energie aan en na afloop is iedereen compleet afgepeigerd. Iedereen zit er doorheen en tot overmaat van ramp staat die verschrikkelijke afbouwweek ook nog eens voor de deur! Gelukkig zijn wij er dan om aardig wat hand- en spandiensten te leveren, en die hulp blijkt telkens weer zeer welkom. Vaak ontbreekt het jullie, tot onzer groot vermaak, aan de nodige praktische kennis. Jullie hebben totaal geen werklogica, maar leveren 120% inzet; en dat vinden wij geweldig.
De Varsity voelt voor ons om die reden als een fijne afleiding; jullie hebben een jeugdige, onbevangen en frisse kijk op zaken en dat mee mogen maken is echt een uitje. Het is een heerlijk, nostalgisch evenement waarbij de handen graag uit de mouwen worden gestoken. Ons advies? Laat iedereen lekker zichzelf zijn en blijf vooral lekker aanmodderen; dan kunnen wij weer lekker genieten."
---
Ernesto Ritfeld, Politie Houten
"Pollen gooien, vlaggen jatten, brassen en zooien; mijn jongere collega's die voor het eerst een Varsity meemaken kijken me ieder jaar weer aan alsof ze water zien branden wanneer ik tijdens de briefing uitleg hoe het eraan toe gaat op de Varsity. Het is vaak lastig te verkroppen voor jonge agenten dat dit soort taferelen toelaatbaar zijn, de gebruiken staan lijnrecht tegenover de normen en waarden waar wij normaal gesproken naar moeten handelen. De Varsity is uniek in zijn soort, ook voor ons als politieagenten.
Mijn naam is Ernesto Ritfeld en ik ben sinds elf jaar als hoofd Politie Houten betrokken bij de Varsity. Mijn taak begint reeds in september, wanneer ik samen met de nieuwe Varsity Commissie evaluaties doorspreek die vlak na de Varsity gehouden worden. We bespreken samen met hen, de brandweer en de juridische medewerkers van de gemeente Houten hoe we de nieuwe Varsity, die altijd plaatsvindt op de eerste zondag van april, gaan vormgeven. De nieuwe Varsity Commissie kan dan gelijk aan de slag gaan met de aanvraag van nieuwe vergunningen. Tevens brengen we advies uit over de plannen van de komende editie; iedere commissie heeft een nieuwe visie en samen overleggen we hoe we hun nieuwe plannen het beste aan kunnen pakken. Ten slotte staan wij op de dag zelf natuurlijk op het Varsityterrein ter handhaving van de openbare orde.
Wat de Varsity voor mij zo bijzonder maakt is het feit dat er een hoop komt kijken om de organisatie in goede banen te leiden. Er vindt iedere keer weer vernieuwing plaats en dat zorgt dat elke editie weer anders is. De Varsity is een prachtig evenement gebaseerd op vele oude gebruiken en tradities en dit maakt het voor onze jonge agenten vaak lastig (en geestig) om al dan niet in te grijpen bij de rondbrassende studenten. Natuurlijk staat de handhaving van de openbare orde voorop; maar het blinde ongeloof in de ogen van mijn jonge collega's bij het te water gaan van de vele naakte studenten maakt dat ik op dat moment graag een oogje toeknijp."